OPEN JOB OPPORTUNITY FOR ENGLISH LANGUAGE TEACHER
OPEN JOB OPPORTUNITY FOR ENGLISH LANGUAGE TEACHER
---
May 30, 2017, 1:00 PM | Job opportunities
---
Community Building Mitrovica is looking for a part time (20 hrs/week) English Language Teacher to work within the 'English Access Microscholarship Program'in Mitrovica North for a period of six months with the possibility of extension.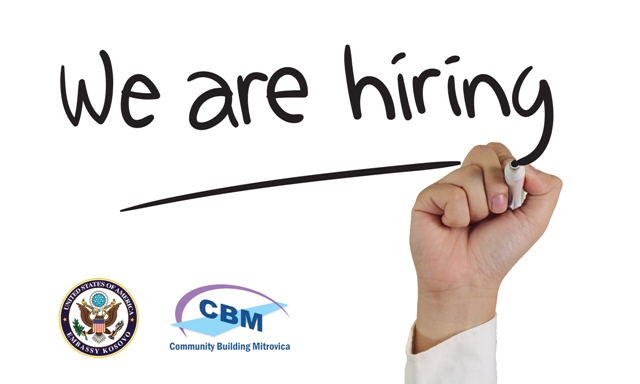 "English Access Microscholarship Program" is a global scholarship program supported by the U.S. Department of State that provides a foundation of English language skills to talented 18-25 year-olds from economically disadvantaged backgrounds through after-school classes and intensive sessions. Within the program - Access students also gain an appreciation for U.S. culture and democratic values through enhancement activities. Access seeks to equip selected students with strong English language skills that can lead to better jobs, educational opportunities, and gain the ability to participate in and compete for future exchanges and study in the United States
Community Building Mitrovica (CBM) is a local non-governmental organisation (NGO) operating in the field of peace and community building in the wider region of Mitrovica. The overall aim of CBM is to facilitate contact and dialogue between citizens in the whole of Mitrovica municipality. CBMs staff consists of devoted citizens – both Serbs and Albanians – who grew up in this region and want to restore the previous confidence and even friendship that war and politics have destroyed.
Requirements & assets:
Recognized English Language Teacher Qualification;
Experience in English language teaching;
Good communication and social skills and able to work in a multicultural setting;
Good team worker and able to work independently;
Available for at least six-months part-time;
Abilities on creative teaching;
For more information, please visit the CBM website: www.cbmitrovica.org
If you are interested, please send your letter of motivation and CV before 09.06.2017 to:
info@cbmitrovica.org(Reference/Subject: English Language Teacher)
---